Swatch You're a Star, Special edition, S028Z108
100,00 € Tax_including
SWATCH
SWATCH – YOU'RE A STAR, Special edition
REF: S028Z108
MOTHER'S DAY STAR MOM
Dimensione:  34mm
Il prodotto è nuovo e sarà spedito con la propria confezione.
CITRON BLEU garantisce l'autenticità di tutti i prodotti in vendita e la più alta qualità di tutti i materiali utilizzati nella manifattura.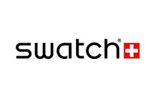 Descrizione
SWATCH

SWATCH – YOU'RE A STAR, Special edition
REF: S028Z108
PRICE: € 100,00
MOTHER'S DAY – 

STAR MOM
Questo orologio Gent BIOSOURCED Special per la Festa della mamma celebra le mamme come vere star della nostra vita con il suo splendido quadrante, rifinito con una stella di colore rosa acceso e dettagli dorati: inserti, lancette e la stampa "YOU'RE A STAR". Una cassa in plastica di origine biologica chiara brillante si erge su un cinturino in silicone trasparente decorato da passanti glitterati di colore metallico e passanti supplementari removibili caratterizzati da un cuore, una bocca che bacia, un regalo e un muscolo che si flette. Questo orologio include una confezione speciale riflettente, che fa onore a delle grandi donne: le mamme.
———————
This Gent BIOSOURCED Special Mother's Day watch celebrates mothers as the true stars of our lives with its beautiful dial, finished with a hot pink star and golden details: inserts, hands and "YOU'RE A STAR" print . A bright clear bio-based plastic case stands on a transparent silicone strap decorated with metallic-colored glitter loops and additional removable loops featuring a heart, a kissing mouth, a gift and a flexing muscle. This watch comes in special reflective packaging, honoring one great woman: mothers. SWISS MADE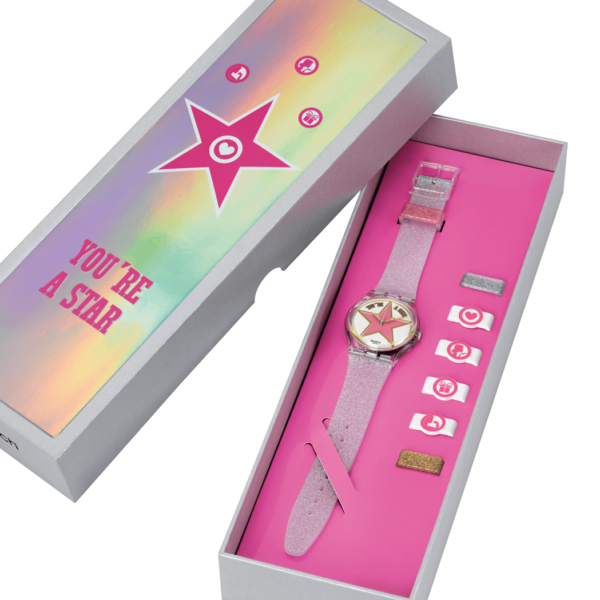 Solamente clienti che hanno effettuato l'accesso ed hanno acquistato questo prodotto possono lasciare una recensione.