Swatch X Centre Pompidou, Piet MONDRIAN , SUOZ344
105,00 € Tax_including

SWATCH X CENTRE POMPIDOU
New Gent SUOZ344
RED, BLUE AND WHITE by Piet Mondrian
SWISS MADE
Il prodotto è nuovo e sarà spedito con la propria confezione.
CITRON BLEU garantisce l'autenticità di tutti i prodotti in vendita e la più alta qualità di tutti i materiali utilizzati nella manifattura.

Esaurito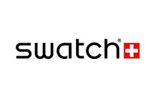 Descrizione
SWATCH X CENTRE POMPIDOU


RED, BLUE AND WHITE, BY PIET MONDRIAN
REF:  SUOZ344
PRICE: € 105,00
Questo orologio New Gent di Swatch, che nasce da una collaborazione artistica, celebra il dipinto più famoso di Piet Mondrian – "Composition en Rouge, Bleu et Blanc II" – con un robusto cinturino in silicone nero opaco caratterizzato da una stampa completa multicolore nel suo stile caratteristico. Un quadrante nero con stampa bianca fa da cornice alle lancette di colore bianco e rosso che completano il look di questo modello della collezione Swatch X Centre Pompidou, nato da una collaborazione col museo.
—————
This New Gent watch from Swatch, an artistic collaboration, celebrates Piet Mondrian's most famous painting – "Composition en Rouge, Bleu et Blanc II" – with a sturdy matte black silicone strap featuring a multi-coloured all-over print in its characteristic style. A black dial with white print frames the white and red hands that complete the look of this model from the Swatch X Center Pompidou collection, born from a collaboration with the museum.
 SWISS MADE







Solamente clienti che hanno effettuato l'accesso ed hanno acquistato questo prodotto possono lasciare una recensione.