In offerta!
MONTBLANC Stilo F Starwalker SpaceBlue Resin, 130210
Tax_including
MONTBLANC
STILOGRAFICA STARWALKER SPACEBLUE RESIN
Ident No. MB130217 – Pennino F
Descrizione
MONTBLANC
STARWALKER SPACEBLUE RESIN FOUNTAIN PEN NIB F
Ident No. MB130210
Price: € 585,00
Starwalker SpaceBlue, tutte le parti in metallo presentano una finitura rutenio scuro, mentre la pregiata resina opaca è di un intenso colore blu spazio, che richiama le tonalità di un cielo stellato. Anche la cupoletta sulla parte superiore del cappuccio, nella quale fluttua l'emblema Montblanc, ha un intenso colore blu spazio
—————-
Starwalker SpaceBlue goes beyond Planet Earth to look towards the stars and the galaxy. Definitely masculine and futuristic, this new StarWalker collection features a new look for the resin body, with a design reminiscent of the intricate patterns of the Widmanstätten Structure, one of nature's most hypnotic creations. All metal parts have a dark ruthenium finish, while the opaque precious resin is an intense space blue color, which recalls the shades of a starry sky. The dome on the top of the cap, in which the Montblanc emblem floats, also has an intense space blue colour.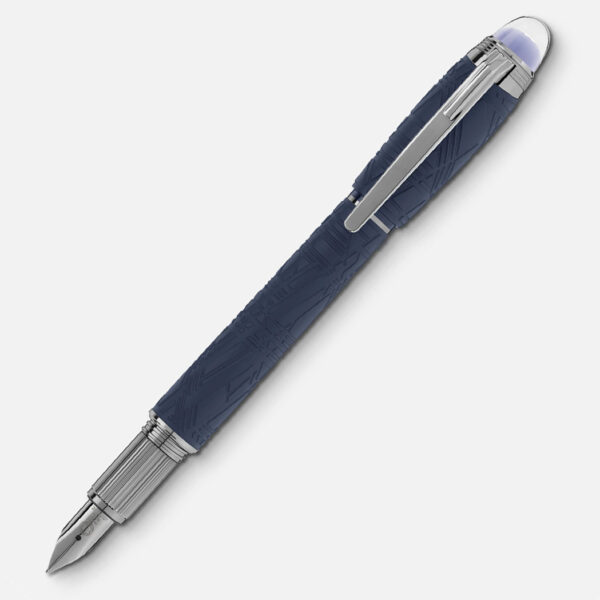 Informazioni aggiuntive
| | |
| --- | --- |
| Note SPACEBLUE | Starwalker SpaceBlue si spinge oltre il Pianeta Terra per rivolgere lo sguardo verso le stelle e la galassia. Decisamente maschile e futuristica, questa nuova Collezione StarWalker presenta un nuovo look per il corpo in resina, con un design che ricorda i motivi complessi della Struttura di Widmanstätten, una delle creazioni più ipnotiche della natura. |
Solamente clienti che hanno effettuato l'accesso ed hanno acquistato questo prodotto possono lasciare una recensione.