In offerta!
ROBERTO COIN Earrings 18K Cento Diamonds Cento 1.07ct, ADR100EA
Tax_including
ROBERTO COIN
COPPIA ORECCHINI  ORO BIANCO 18K E DIAMANTI BIANCHI Ct 1,07
Ident No. ADR100EA0017
Roberto Coin CENTO COLLECTION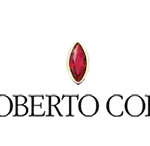 Descrizione
ROBERTO COIN

EARRINGS 18Kt GOLD AND CENTO DIAMONDS 1,07ct
PRICE: € 4.590,00
Ident No. ADR100EA0017
Roberto Coin CENTO COLLECTION
Coppia di Orecchini pendenti in oro bianco 18 carati con diamanti 1,07 ct con incastonati cinque diamanti a taglio brillante speciale (RC Cento faccette).
I 10 diamanti di dimensioni a scalare sino al più grande di 0,27 Ct brillano magnificamente e hanno un fuoco eccezionale. Colore F, purezza VVS.
All'interno degli orecchini  si trova il rubino firmato Roberto Coin.
Come con tutti i gioielli Roberto Coin, questi orecchini sono favolosi indossati. – Made in Italy
—————
ROBERTO COIN CLASSICA PARISIENNE 18CT WHITE GOLD and DIAMONDS RING
Roberto Coin CENTO COLLECTION
Pair of 18K white gold pendant earrings with 1.07 ct diamonds set with five special brilliant cut diamonds (RC One Hundred Facets).
The 10 diamonds scaled to the largest of 0.27 Ct sparkle beautifully and have exceptional fire. F color, VVS clarity.
The ruby ​​signed by Roberto Coin is found inside the earrings.
As with all Roberto Coin jewellery, these earrings are fabulous worn. –
Made in Italy
Solamente clienti che hanno effettuato l'accesso ed hanno acquistato questo prodotto possono lasciare una recensione.