In offerta!
Collana Malachite & Corallo in Oro giallo 18K, cm45
Tax_including
GOLD 18Kt
COLLANA MALACHITE E CORALLO IN ORO GIALLO 18K 
ID: MCH001  – Made in Italy
"Il verde è il colore principale del mondo, e ciò da cui nasce la sua bellezza"
Pedro Calderón de la Barca.
Descrizione
GOLD 18K

MALACHITE AND CORAL NECKLACE GOLD 18K
PRICE: € 950.00
ID: MCH001
Collana dischi di  Malachite con centrale un fiore di corallo rosso finemente lavorato a mano su telaio in oro giallo titolo 18Kt. Chiusura Oro 18K.
Lunghezza  cm 46,0  – Peso totale 47,50 – Made in Italy
————–
Malachite disc necklace with a central red coral flower finely handcrafted on an 18Kt yellow gold frame. 18K Gold Clasp.
Length 46.0 cm – Total weight 47.50 – Made in Italy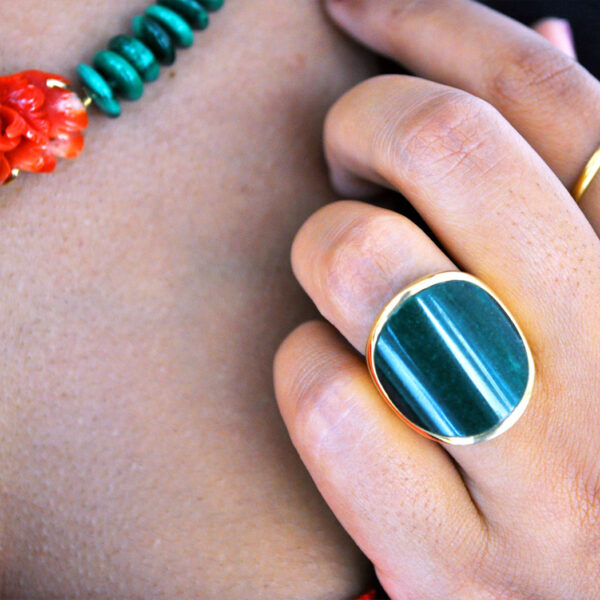 Informazioni aggiuntive
Note: Nuovo

Il prodotto è nuovo e sarà spedito con la propria confezione.
CITRON BLEU garantisce l'autenticità di tutti i prodotti in vendita e la più alta qualità di tutti i materiali utilizzati nella manifattura.

SPEDIZIONE

Spedizione GRATIS in Italia, per acquisti superiore a euro 50,00
Solamente clienti che hanno effettuato l'accesso ed hanno acquistato questo prodotto possono lasciare una recensione.